ServerBlog.us.com launches, offering free information and advice on server technology and webhosting with daily posts and provider referral service.
New Orleans, LA (PRWEB) March 10, 2009 — The idea behind The Dedicated Server Blog was first born when the creator was looking for information on web hosting, in particular, dedicated servers. "There just wasn't much out there in terms of the blogosphere," said Chris Hartwell, the owner of inlayout, llc, the founding company behind The Dedicated Server Blog. "That's why we started ServerBlog.us.com, as a way to put out useful information on web server and hosting technologies for the public who is looking for answers to some commonly asked questions. There needs to be a definitive niche blog in place to interact with this market," said Chris.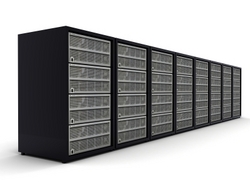 The dedicated server market is vast and competitive. Because of the large number of companies competing for clients and high sign-up costs, advertising costs in this arena can be staggering. What's more compelling is that the downturn of the US economy has already caused this industry to take a hit since dedicated servers are not a necessary expense for most everyday websites.
The companies who lease dedicated servers are usually highly invested in their web properties, and dependent on high availability hosting. When income is dependent on server uptime, cheap "mom & pop" shared hosting accounts can become the "Achilles heel" of a mid to large sized business.
The problem with the blogosphere these days is, no one's talking about it. And very few, if any, blogs out there are completely "dedicated to dedicated" like ServerBlog will be. Chris has a "dedicated" staff writer, who will post daily. He has partnerships with the biggest names in the industry, companies like Rackspace, LiquidWeb, Peer1, and FastServers.net. "We won't just link out to our partners and serve advertising," Chris continues, "we have a form on our website where anyone can describe their hosting needs and get a free recommendation from us on a server that should meet their needs, as well as the best company to get it from. Our site will also serve as a smart referral service for people searching for providers."
Chris's background in internet marketing, particularly SEO & SEM, provides a solid foundation for a site like The Dedicated Server Blog to achieve success. Under inlayout, llc, he started and continues to operate two very successful websites in their niche, one a social media site / public forum, and the other a top mental health referral service that has been going 5 years strong and continues to grow. His experience in designing and marketing websites from the ground up ensures that this won't be the last we hear about The Dedicated Server Blog.
When you visit, be sure to add ServerBlog.us.com to your technorati "favorites" and social bookmarking sites.
For more information on ServerBlog.us.com or inlayout, llc, email chartwell (at) inlayout (dot) net, or call 1-888-354-8221.
# # #
To View Our Press Release on PRWEB.com click here: http://www.prweb.com/releases/dedicated-server/blogs/prweb2215484.htm